Richard Burr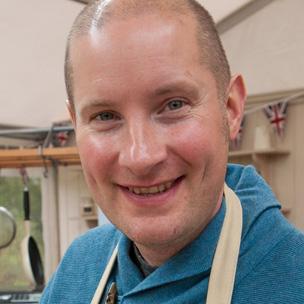 Richard was a finalist in the 2014 series of the Great British Bake Off.
Born in North London, Richard is a family man through and through. He is the fourth generation working in his family's building business. A keen fisher, diver and cyclist, he has his own allotment in his back garden and volunteers for the National Wildlife Trust.
Richard is as comfortable baking in the kitchen as he is building one, and likes to bake with his wife and two little girls. Richard loves bread and pastry and likes to rummage through his vegetable patch to find something to bake with. Making their daughters' birthday cakes is as big an event as Christmas, with the girls coming downstairs in the morning to see what their parents have created for them.