Chicory recipes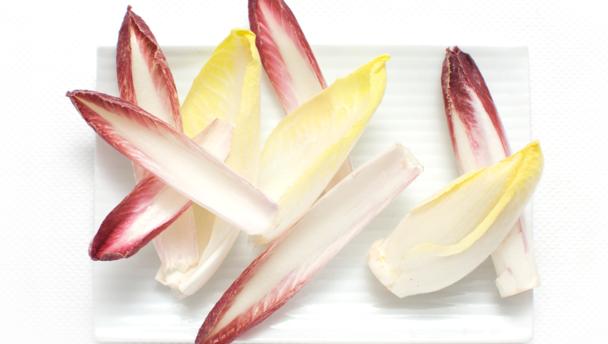 A vegetable and/or salad leaf, chicory has a white bulb with tightly packed elongated cones and overlapping white leaves with pale yellow tips. The roots are propogated in warm, moist peat or sand, while the white, fleshy leaves are left to develop in darkness. Chicory can be eaten raw or cooked and comes in red and white varieties. Although called chicory in the UK, it is more commonly known as chicon or witloof (meaning white leaf) in Belgium and is called endive in the US.
Recipes using chicory
Buyer's guide
Chicory is available throughout the winter months. Choose chicory with crisp, fresh-looking leaves that are springy to the touch and tightly packed; there should be no sign of insect damage.
Storage
Once picked and exposed to light, chicory leaves start to become more bitter, so they should be stored wrapped in paper to keep out the light and eaten as soon after picking as possible.
Preparation
Chicory works best in composed salads rather than tossed with other, softer leaves. Raw chicory leaves are excellent eaten fresh, drizzled with a little vinaigrette, or stir-fried and served as a vegetable side dish. Whole heads of chicory can be baked, poached or griddled. Chicory is particularly good wrapped in ham, covered with a Béchamel sauce and baked in the oven.