Chives recipes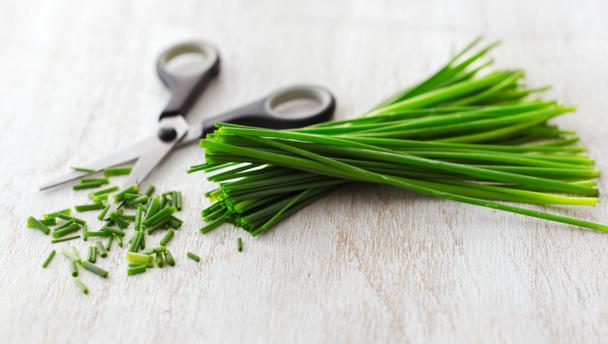 The smallest and most delicate member of the onion family, chives are a popular herb used in European cookery. They have long, thin green blades that are hollow inside. They have a mild, grassy flavour similar to baby spring onions or young leeks. There is also an Asian variety of chive called Chinese chives, garlic chives or kuchai.
Recipes using chives
Buyer's guide
Chives are in season in spring and summer. Fresh chives are widely available from supermarkets and garden centres. Do not substitute fresh chives for dried, as the finished dish will taste musty.
Storage
Keep fresh chives refrigerated for up to three days.
Preparation
Snip chives with scissors instead of chopping them, and do not subject them to much cooking as they are delicate. Instead, use chives in garnishes, salads, egg mayonnaise sandwiches, vegetable stocks, soups, creamy sauces, potato dishes and omelettes, adding the herb to the dish just before serving. Purple-blue chive flowers are also eaten and used as a garnish.
Article by Sejal Sukhadwala