Mushroom recipes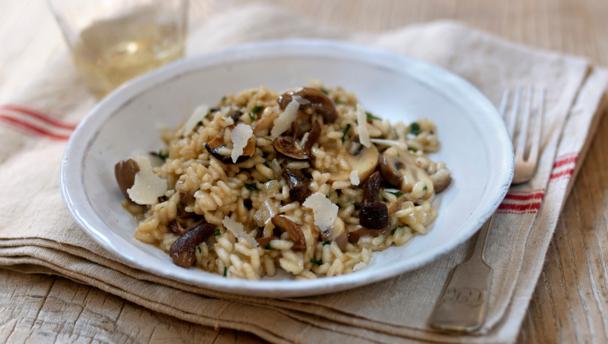 Mushrooms are a type of funghi. There are many different varieties, including those that can be picked in the wild, as well as cultivated mushrooms that are generally sold as buttons, cups or flats according to age. Large flat (Portobello) mushrooms have more flavour than young buttons, and chestnut mushrooms tend to have a slightly stronger taste and firmer, meatier texture than ordinary white ones.
Recipes using mushroom
Buyer's guide
Cultivated fresh mushrooms are available all year. Wild mushrooms are at their peak in autumn although some, such as morels, are found in spring. Dried mushrooms are available all year round.
Choose cultivated mushrooms carefully as they tend to turn limp quickly and loose their flavour. Avoid any that have broken caps, bruised or wrinkled dry patches or that look limp, slimy or sweaty.
Dried wild mushrooms can be easily reconstituted by soaking in warm water. They are excellent added to soups, stews and risottos. As the drying process concentrates their flavour, you only need a few to enhance the flavour of a dish.
(CAUTION: ON NO ACCOUNT PICK OR EAT ANY MUSHROOM GROWING IN THE WILD UNLESS YOU CAN POSITIVELY IDENTIFY IT.)
Storage
All mushrooms are best used on the day of purchase, although cultivated ones will keep for up to three days in the refrigerator. Mushrooms will sweat if stored in plastic, so keep them in a paper bag, or wrapped in kitchen paper.
To freeze mushrooms, slice them and either sauté in butter or oil, steam or blanch. Cool to room temperature and pack in rigid containers. Cook from frozen unless stir-frying, when you will need to thaw them first in order to avoid being splashed by hot oil when you add them to the pan.
Preparation
Opinion is divided over whether to lightly rinse mushrooms or to simply wipe them with a damp cloth, but if they're picked wild, they should always be cleaned carefully before cooking. There's no need to peel the stems before steaming, frying or grilling mushrooms, unless they're particularly thick or discoloured. Small mushrooms can be cooked whole, halved or quartered; larger ones are best sliced, chopped or stuffed whole. Butter, cream, parsley and garlic all add flavour to mushrooms. Use them in, sauces, curries, bakes, omelettes and stews, as well as salads.
Article by Clarissa Hyman