Pistachio recipes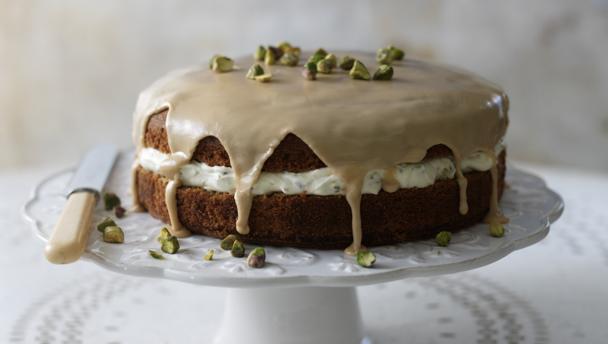 Our pistachio recipes cover everything from fresh salads to rich cakes. These slim, oblong nuts, ranging from pale, creamy yellow to dark green, are kernels of small olive-like fruits. They grown in clusters, and are cultivated in the Middle East, some Mediterranean countries, and California.
Recipes using pistachio
Buyer's guide
Unblemished, large, plump, dark-green nuts are the best quality. Buy them from a reliable shop with a high turnover to ensure that they are not rancid or artificially dyed.
Storage
Store pistachios in an airtight container in the refrigerator to keep them fresh for several months.
Preparation
Pistachios can be briefly dipped in boiling water before cooking to remove their skin and reveal their bright colour before use. Roasted and salted nuts are used as a snack with alcoholic drinks. Plain, unsalted pistachios are widely used in Middle Eastern, Indian and Italian dishes such as pilafs, pâtés, charcuterie, poultry sauces, stuffings, cakes, ice creams, pastries, puddings and confectionery.
Article by Sejal Sukhadwala